*vegan, gluten free, laktose free
---
It's asparagus time. Whether white or green, I love all varieties. Asparagus is so versatile that you can use it to create lots of delicious recipes. This time I decided to take the green variant. Roasted in the oven, refined with lemons and fresh thyme, it goes perfectly with the hummus of white beans and beetroot. With fresh blackberries and roasted walnut kernels a simple dish becomes something special.
---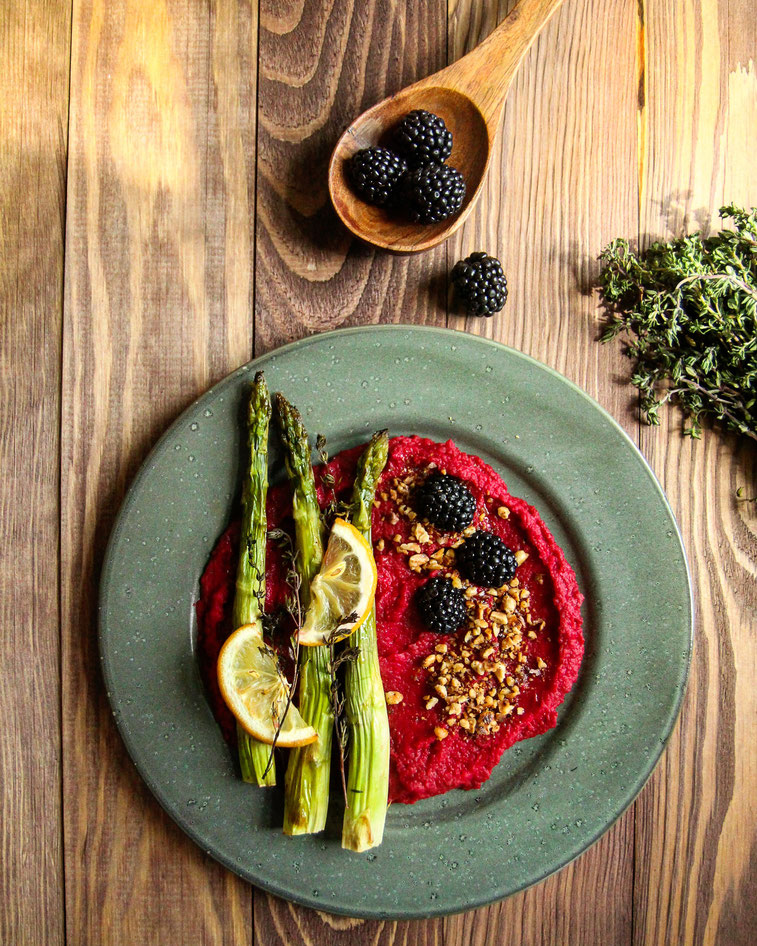 INGREDIENTS FOR 2 PEOPLE:
2 organic lemons
500g asparagus
2 red beds
100g blackberries
8 walnuts
1 tbsp  sesame paste
480g of pre-cooked white beans
1 tsp cumin
Pinch of cayenne pepper
Salt pepper
2 cloves of garlic
fresh thyme
olive oil
     PREPARATION:
Clean beetroots, quarter them, sprinkle with olive oil on a baking sheet and garnish with thyme. Put the beetroot in the oven at 200 degrees (circulating air) for about 30-40 min. to bake.


In the meantime, put the pre-cooked white beans in a sieve and drain. Put beans together with sesame paste, garlic, spices and the juice of 1 ½ lemons in a bowl and puree with a hand-held blender.


Remove beetroots from the oven and allow to cool slightly (you should be able to peel off the peel). Peel the skin, cut the beds into small pieces and add to the hummus. Puree so that there are no more pieces left. The finished hummus may be seasoned with more spices and allowed to cool for the rest of the preparation time. 


Clean the green asparagus, cut off the woody ends and sprinkle with oil on a baking sheet. Slice the remaining half of the organic lemon and spread with the thyme on the asparagus. Season with salt and pepper and roast in a preheated oven at 180 degrees for about 20-30 minutes. 


Remove the walnut kernels from their shell, chop and roast briefly in a small pan. Wash and halve the blackberries.


Once the asparagus is ready, serve as desired.