*Vegan, Laktose free
---
Bei meinem wöchentlichen Einkauf auf unserem Markt habe ich diese süßen, runden Zucchinis gefunden und musste sie natürlich gleich mitnehmen. Ich wollte schon immer gefüllte Zucchinis machen und welche sind dafür besser geeignet als solche in rund ?
Gesagt, getan und somit widmete ich mich gleich der Rezeptentwicklung. Ich habe mich für eine Füllung aus Beluga-Linsen entschieden, weil sie sehr protein und -nährstoffreich sind. Die Intensität und Würze der orientalischen Tomatensoße schafft den perfekten Ausgleich zum eher neutralen Geschmack der Zucchinis und bildet die perfekte Grundlage für dieses Rezept. 
---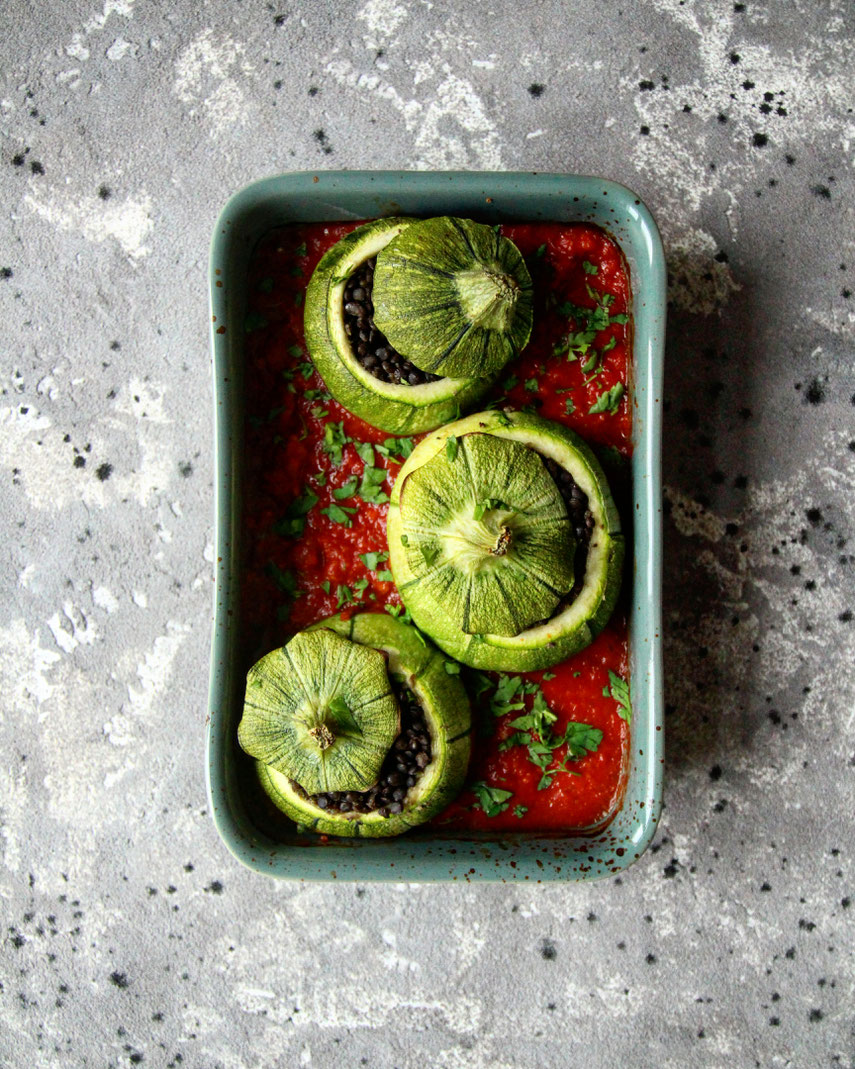 INGREDIENTS FOR 2 PEOPLE:
 For the stuffed zucchini:
2 small round zucchinis
200g boiled Beluga lentils
100g Semmelbsrösel
1 tbsp olive oil
1 small red onion
1 clove of garlic
  parsley
  mint
1 TL Baharat
1½ teaspoons cumin
1 tsp paprika powder
Salt pepper
For the oriental tomato sauce:
400g peeled tomatoes
3 tablespoons tomato paste
1 tbsp olive oil
1 red onion
1 clove of garlic
fresh mint, parsley
fresh laurel, thyme
Pinch of cinnamon
1 tsp Baharat
1½ teaspoons cumin
Salt pepper
PREPARATION:
Peel the onion and garlic and cut into small cubes. Sweat in a saucepan with the olive oil and the bay  Add the peeled tomatoes, the tomato paste and the spices.


Clean and hollow out the zucchinis. Cut the flesh into small pieces and put half in the pot. Simmer everything for about 20 minutes. Add fresh mint and parsley at the end.


Put the remaining flesh together with the cooked lentils in a kitchen towel and wring out the liquid.


Peel the onion and garlic and cut into small cubes. Chop parsley and mint.


Put lentils, breadcrumbs, olive oil, spices, herbs, onion and garlic in a food processor and puree to a sticky mass. Fill the mass into the hollowed zucchini.


Put the tomato sauce in a casserole dish and put the stuffed zucchini on top. Put everything in the oven at about 180-200 degrees for 30-40 min. to bake.