*vegan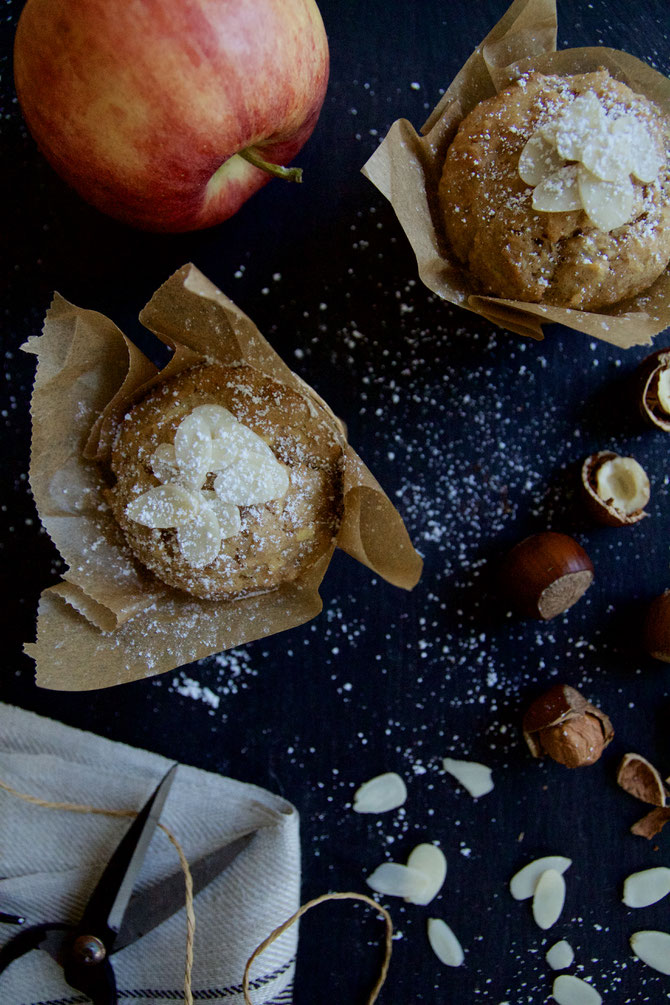 ---
Yes, you read that right, muffins with sauerkraut and apple.
Surely you are wondering if that can even taste good and I say to you: yes it can! Although I needed a total of 3 attempts to get the perfect recipe, I'm finally happy with the result. These muffins fit perfectly into the cold season thanks to their Christmas flavor and you'll be surprised how fruity and fluffy they are.
Give it a try!
---
---
INGREDIENTS (12 muffins):
moist ingredients:
35ml agave syrup
200ml soymilk (unsweetened)
25ml sunflower oil
2 tablespoons of lemon juice + a little bit of lemon
1 tbsp vanilla extract
50g sauerkraut (wine sauerkraut)
1 apple
dry ingredients:
200g wheat flour
50g spelled wholemeal flour
40g ground almonds
10g ground hazelnuts
30g sugar
2 teaspoons of soda
2 teaspoons cinnamon
1 pinch of cardamom
PREPARATION:
First preheat the oven to 160 ° C circulating air.


Meanwhile, put all liquid ingredients together with the sugar in a bowl and mix well.


In a separate bowl, mix all dry ingredients together.


Peel the apple and, as desired, either cut into pieces or grate and then mix it with the liquid ingredients.


Before you also put the sauerkraut in the bowl, rinse it thoroughly in a sieve, finely chop and then squeeze well in a fresh dishcloth.


Slowly lift the solid ingredients under the liquid and stir with a spatula until a uniform mass is obtained.


Then spread this mixture on 12 muffin cups. If necessary, add some thin apple slices to the dough.


Put it in the oven! Keep the temperature at 160 ° C and bake the muffins for about 30-35 minutes.
---
---
small tips, great effect!
In order to bake the perfect muffins you should pay attention to the following things:
Never mix the ingredients together all at once! Always mix the moist ingredients with the sugar first and then mix the dry ingredients in a separate bowl. Then mix it carefully.
Only stir the mixture until just such a dough is formed. If you stir too long your muffins will be hard and dry and will not taste that well. That's why you should rather take a dough spatula instead of a hand mixer.
You should always use soda in combination with an acid (eg lemon juice, yoghurt, buttermilk).Only then can it react and your muffins become fluffy.
---